Salad Preparation Machines

Salad and Vegetables Drying Equipment -


Cost efective solutions, outstanding quality and reliability are common for Fenco food processing machines.

Drying and cooling system in cold ambient




Twist COOLER - DRIER Mod. TCD/MW


A) This is full complete system complete with heating elements using microwaves and cooling - drying system, with final product temperature control.
B) This is full complete system like solution "A", but with Freon motocondensing unit, as complete turn-key installation.



Performance:



"Nominal" product density :- 1 Kg/m2 (approx.)
"Nominal" product layer:- single leave (approx.)
"Nominal" Cooling - Drying time:- 2 - 4 minutes (adjustable)
Product inlet temperature:- 2 - 10 C (approx.)
Final product temperature:- 2 - 3 C (approx.)
Free water on product "inlet":- 10% (approx.)
Free water on product "outfeed":- 2% (approx.)



Main concept design


This solution has been studied and designed for .....


EXTREME CARE FOR THE SALADS.........



A very delicate and gentle treatment of delicate product such as the fresh cut salad is;
Avoiding any mechanical stress and excess of thermal heats transferred to leaves, while is working on a very low product layer, almost "single layer - leaf";
As consequence final product will have better shape and longer shelf life;
Very quick and fast treatment;
SPACE SAVING ........
very compact design, easy to be located in most of the existing processing rooms, then due to it's own design the useful surface is much bigger then any other solutions;
ERGONOMIC DESIGN......
infeed at a very accessible and convenient position;
outfeed point just at the correct height of the packaging system, multhead weighers, etc. without any extra elevator.
Maintenance free and/or extremely low spare parts cost due to utilisation of high quality commercial components;
Belts gear motors positioned outside the insulated cabin avoiding any risk of contaminations;
Very high mechanical reliability of spiral belt conveyor.
Reduced belt wear and elongation thanks to low tension drive system (the belt is pulled by means of dynamic friction on its total length)
Possibility to have different IN & OUT machine configuration.
Twist Cooler Dryer could be delivered pre installed, within certain dimensions / capacity;
If delivered with "Easy Handling" configuration it will be very easy in future to move it from one place to another;
Full installation is completed in few days and only utilities connection is needed;
PLC and touch screen supervision system (option);
SANITISATION .....
System has been designed as Easy Clean in order to made easy cleaning and sanitisation, and match the highest standard required by the fresh cut market;
All components are designed to be easily accessible and cleanable;
Possibility to have fully automatic PLC controlled washing system;
Continuous washing of the conveyor belt (option);
Possibility to have full PLC controlled C.I.P. system;
Lubricant contamination free;
Compressed air contamination free;
Labour / operator contamination free;
ENERGY SAVING ......
Very low production cost, and short Return From Investment period;
LABOUR SAVING .........
This system does not need any manual operation, whole process is automatically controlled;
This allows to obtain huge savings in the production cost;
Features:


Spiral unit design with drum driving and plastic mesh type belt, Completely in stainless steel AISI 304, food grade heat resistant plastic materials, with low grip coefficient. Heating elements is employing microwaves system, in cold ambient. Heat exchangers for cooling and condensing the moisture.


WATER HEATING ELEMENTS



Microwaves system: Magnetron units properly positioned to warm-up the leafs. Protection and microwaves barriers.
COOLING AND "WATER - MOISTURE" CONDENSING HEATING ELEMENT
Ventilation "VOT"
Fan type: Axial type directly coupled with electric motors, clock wise and counter clock wise.
Air ducts and air distribution chamber: Made from stainless steel or corrosion proof aluminium profiles and sheets.
On-Feed System with Dewatering Belts to provide the best mechanical de-watering action, able to remove as much as possible water from leaves surface.
Complete turnkeys packaging solutions are available on request.

Please contact us on info@jzw.com.au to discuss your application.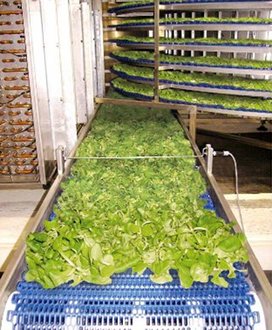 Twist cooler salad dryer tandem
Spiral salad dryer tandem


Salad drier dewatering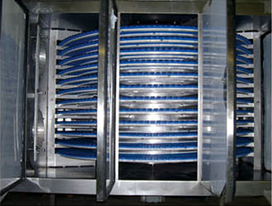 Salad drier spirals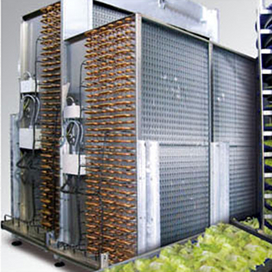 Salad drier heat exchanger